⚠︎ English translation is still in progress. We apologize for the inconvenience.
Legi-Air 4050 B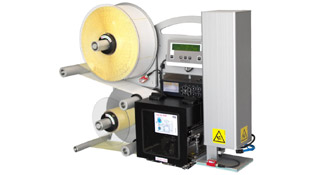 Estes sistemas são baseados na arquitetura da prestigiada LA4050. Mas não se deixe enganar, o B de Legi-Air 4050 B não significa model base ou básico. O "B" vem do slogan "Be Eletric", visto que as Legi-Air 4050 B vêm equipadas com um de 4 aplicadores que são movidos por um motor elétrico em vez dos tradicionais aplicadores pneumáticos. O sistema suporta 4 aplicadores elétricos para diferentes métodos de aplicação.
Legi-Air 4050 Be Fast
Não limite a sua produtividade! Com a Legi-Air 4050 B pode imprimir o lote e a validade nos seus rótulos pré-impressos ou imprimir toda a etiqueta no momento, imediatamente antes de as aplicar nos produtos. O sistema consegue taxas de aplicação bastante altas e, dependendo do aplicador escolhido, pode alcançar 240 aplicações por minuto, isto é, quase 15 000 products per hour.
Legi-Air 4050 Be Fit
Apply your labels in the right spot with millimeter precision. No more misplaced, crooked or wrinkled labels. E o problema de manter stocks de etiquetas com informação variável que eventualmente ficará desatualizada é coisa do passado. Ao imprimir no momento, poupa tempo, dinheiro e complicações.
Legi-Air 4050 Be Safe
Estes sistemas têm certificação CE e cumprem as normas de segurança europeias. São sistemas completos (CC) de acordo com as normas de segurança e não necessitam de proteções adicionais, visto não exercerem forças superiores a 50N.
Legi-Air 4050 Be Eletric
O model EB é 100% elétrico e não requer ar comprimido. Os outros models apenas usam pressão de ar para segurar e soprar a etiqueta contra o produto, sem contacto com o mesmo. Mas mesmo nesses models, a redução dos custos relativos ao ar comprimido anda na ordem dos 80%. Os compressores da fábrica trabalham menos, sofrem menos desgaste e consomem menos energia, melhorando o ambiente e reduzindo as despesas.
Compatible with most Print Engines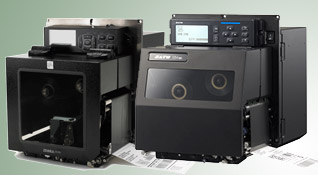 You can equip your Legi-Air 4050 B with a thermal-transfer printer module from any of the famous brands like Zebra®, Sato®, Datamax®, among many others, to print labels with good quality.
Easy to Use
This system is very easy to set-up. You just need to calibrate the printer to the label size being used, just like it is done for any other desktop label printer. Then, simply submit a print job and the applicator automatically synchronizes with the printer, catching the label and applying it onto the product that was detected by a sensor.
With Industrial Console
Configure rapidamente o sistema usando o controlador digital com visor. Navegue com facilidade pelos menus, altere parâmetros e veja as mensagens de estado do sistema.
Use All the Features of the System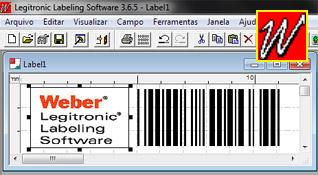 You can use any compatible software with the print engine that you have picked, but it is with Legitronic® that you can take full advantage of your printer. You can create simple or complex labels, with GS1 barcodes and RFID data and start a print job on the Legi-Air 4050 B. Learn more about the things that you can do with the software in Legitronic.
Different Applications
Pode equipar o sistema com vários aplicadores para realizar aplicações nos laterais ou topos de produtos, com o braço linear, com o aplicador de cordões ou com a grelha de sopro. Com o tampo rotativo, pode aplicar na parte da frente ou de trás dos produtos ou até fazer aplicações duplas, por exemplo, na frente e no topo do mesmo produto. Ou pode aplicar nos cantos dos produtos com um rolo de pressão adicional. As aplicações são feitas com contacto (aplicador de cordões) ou sem contacto com os produtos, sejam eles simples caixas ou produtos com formas mais complexas como frascos, latas, garrafas, pneus, entre muitos outros feitios. Com um único stand pode orientar o sistema para aplicar em qualquer posição e os sistemas estão disponíveis nas versões esquerda (LH) e direita (RH).
Few Stops
With an unwinder that allows big label rolls and a rewinder for the label liner that works in 1:1, that is, with capacity to rewind the complete roll, you will have to make few stops to do label roll replacements. And we can supply label rolls with the right amount that you need so that during the stops you can replace both print ribbon and the label roll at the same time.
Label Counter
No HMI digital terá um contador de etiquetas para que saiba sempre quantas aplicações foram efetuadas. O contador tem capacidade para 10 000 contagens e dá a volta automaticamente. Pode repor o contador a zero a qualquer momento ou usar uma contagem decrescente, definindo um valor inicial superior a zero. Neste caso, a aplicadora entrará em paragem automática ao chegar a zero.
High Quality Sturdy System
Estas aplicadoras são bastante robustas e fiáveis, com uma vida útil superior a 10 anos. Construídas apenas com materiais de qualidade, não encontrará um pingo de ferrugem e, para além da limpeza ocasional da goma das etiquetas, não necessita de lubrificação nem de manutenção.
Quiet and Energy Efficient
Um sistema que aplica etiquetas como uma metralhadora deve consumir muito e ser bastante ruidoso... Ou não! Este sistema consome energia como um computador e é relativamente silencioso, abaixo dos 70dB(A).
Easy Integration: Control the System
The system can send and receive several signals. As input signals, the system can execute the typical triggers to start the label printing process, extended the tamp and apply the labels. The applicator can be configured to divide the 3 steps of a cycle (print, extension and application blow) or unite the extension and blow in one task and the label printing can be set to start automatically (when there is print data) as soon as the cycle begins. There are more input signals, like the reprint signal, very useful when a scanner is used to check the printed label. The input signals work in active and passive modes, that is, the 24V can be sent by the PLC or supplied by the labeler itself. Like this, only a contact needs to be switched.
Easy Integration: Get Status Information
The system makes available several output signals, such as, the information if the system is ready, if there are errors, if the tamp is in the home position, if there is data on the printer, if the printer is feeding (i.e., printing), if the label is on the tamp pad, among other things. The applicator also sends a signal to warn when the label roll is approaching its end. You can also configure a synchronization signal that becomes active after the product's detection and deactivates at the end of the cycle, when the tamp returns to the home position, or to simply send a pulse after the application, in this last scenario, allowing a definition of a delay and duration in which the signal will be active.
Approved by System Integrators
With the Weber® policy for Global Export, the system integrator companies can export our print-and-apply systems as part of a bigger system and the final user gets all the technical support in the destination country, performed by the local distributor of that said country, all completely transparent and without additional costs. All that a system integrator must do is mention that the system is for resale and when the destination country is known, inform us about it so that we can proceed with the transfer of responsibility of the system to the local distributor.
Many Application Methods
You can equip your Legi-Air 4050 B com um dos 4 aplicadores disponíveis para que o sistema de adapte em perfeita simbiose com os seus produtos e aplicação ou optar por uma versão sem aplicador, preparada para funcionar com braços robóticos externos. Veja os vários tipos de aplicadores disponíveis abaixo.
Applicators
Legi-Air 4050 B EL - Electrical Linear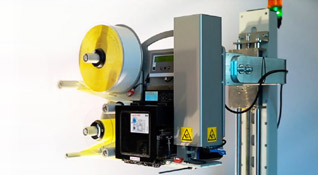 Sistema com o clássico método Tamp-Blow para aplicações nos laterais ou topos de produtos, sem contacto e paragens. Com um sensor de proximidade pode aplicar em produtos com diferentes alturas. O aplicador elétrico tem um curso de 250mm e consegue taxas de aplicação na ordem das 70 labels per minute, dependendo do curso efetuado e comprimento da etiqueta.
Legi-Air 4050 B BB - Blow Box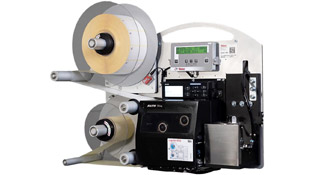 Sistema com um caixa de vácuo (Blow Box) para aplicar segundo o método Blow-On, para aplicações nos topos de produtos ou, alternativamente, nos laterais, sem contacto e paragens. A etiqueta é disparada diretamente contra o produto sem qualquer movimento do braço. Isto reduz os tempos de ciclo, pois não se perde tempo com movimentos, o que torna este método extremamente rápido, capaz de aplicar 240 labels per minute em produtos cujas alturas não variem. Como não há movimentos, o desgaste é praticamente nulo, as afinações desnecessárias e tudo isso traduz-se em custos ainda mais reduzidos.
Legi-Air 4050 B EB - Electrical Belt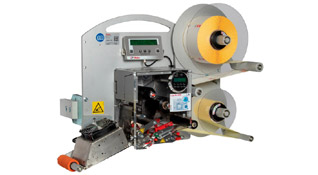 Este sistema é 100% elétrico. O sistema utiliza o popular método Wipe-On que para além de permitir a aplicação de etiquetas em várias posições, sem paragem do tapete transportador, faz tudo isso sem necessitar de ar comprimido. O que torna este sistema Wipe-On especial é que a etiqueta fica segura nos cordões, o que permite que os produtos da linha circulem a velocidades mais rápidas do que a velocidade de impressão, desde que devidamente espaçados para dar tempo de preparar a etiqueta. Assim, o sistema consegue taxas de aplicação na ordem das 240 por minuto.
Legi-Air 4050 B ES - Electrical Swing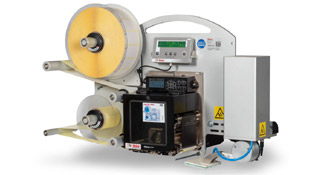 Sistema com braço elétrico que efetua uma rotação a 90º para aplicar segundo o método Tamp-Swing, que consegue colar etiquetas na parte frontal ou traseira dos produtos, sem paragens ou tapetes especiais. E também pode aplicar nos topos ou laterais dos produtos em modo Blow-On, soprando diretamente as etiquetas sem movimento do tampo. E o melhor é que com uma simples configuração pode fazer aplicação dupla, na frente e topo ou na frente e no lado do mesmo produto, com uma só passagem.
Legi-Air 4050 B R - Robots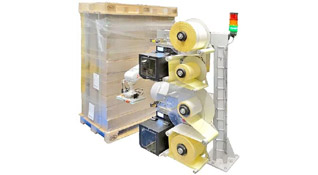 O sistema não vem com aplicador e está otimizado para ser utilizado em conjunto com um braço robótico. Com espaço livre e desobstruído na saída do módulo de impressão, a Legi-Air 4050B R permite que um robot venha pegar na etiqueta para que depois possa fazer a aplicação no sítio desejado dos produtos. Na imagem é possível ver um exemplo, com duas Legi-Air 4050 B R no mesmo stand e um braço robótico com um tampo para receber a respetivas etiquetas, consoante necessite do texto A ou B. Para mais informações, entre em contacto connosco.
Specifications

Type

Print-Apply Labeling System

Brand

Weber

Models

Legi-Air 4050 B EL LH (Left-Hand Version)
Legi-Air 4050 B EL RH (Right-Hand Version)
Legi-Air 4050 B BB LH (Left-Hand Version)
Legi-Air 4050 B BB RH (Right-Hand Version)
Legi-Air 4050 B EB LH (Left-Hand Version)
Legi-Air 4050 B EB RH (Right-Hand Version)
Legi-Air 4050 B ES LH (Left-Hand Version)
Legi-Air 4050 B ES RH (Right-Hand Version)
Legi-Air 4050 B R LH (Left-Hand Version)
Legi-Air 4050 B R RH (Right-Hand Version)

Print Engine

Zebra, Datamax, Sato, Novexx, Avery or CAB (pick yours)

Maximum Print Speed

406mm/s (depends on the equipped print engine)

Print Resolution

600dpi (depends on the equipped print engine)

Application Rate

Up to 240 labels per minute (models BB and EB)
Up to 70 labels per minute (models EL)
Up to 60 labels per minute (models ES)

Minimum Label Width

12,5mm (models EL and ES)
30mm (models EB)
50mm (models BB)

Maximum Label Width

160mm (models EL)
150mm (models EB)
120mm (models ES)
100mm (models BB)

(depends on the equipped print engine)

Minimum Label Length

7mm (models EL and ES)
30mm (models EB)
40mm (models BB)

Maximum Label Length

210mm (models EB)
160mm (models EL)
100mm (models BB)
90mm (models ES)

Application Methods

Electrical Tamp-Blow (models EL)
Blow-On (models BB)
Electrical Tamp-Swing (models ES)
Wipe-On with Belts (models EB)
No Applicator (models R)

Application Stroke

250mm (only models EL and ES)

Tamp-Pad Sizes

Customized (only models EL and ES)
120x90mm (only models EL)
120x160mm (only models EL)
160x123mm (only models EL)
(drilled for 1 label size)

Label Placement

Side

Top

Bottom*

Front

Rear

Front + Side
Edge*
Front + Top
Edge*

Front + Side

Front + Top

Wrap-Around*

Side (Flat Bottles)

Top (Lids)

Among others...

(depends on the model)
*requires special conveyor

Application Accuracy

±1,0mm (models EL, ES and EB)
±1,5mm (models BB)

Motor Type

Stepper (Rewinder/Arm) + Printer's Motor


Core Diameter

76mm

Unwinder Capacity

300mm External Diameter (approx. 450m)

Rewinder Capacity

1:1

PC Software

Legitronic (recommended, not included)

User Interface

HMI with 2-line Digital Display
Print Engine's Display

Languages (Digital HMI, Pack 2)

English
Portuguese
Spanish
Polish
Czech
Latvian
Russian

Ports

2x Product Sensor
1x Alarm Lamp
1x Low Label Sensor
1x HMI
1x I/O
1x Printer
1x Applicator
1x USB-B
1x Power Connection
1x Power Extension (for the printer)
+ Printer's Ports
(other ports as option)

Electrical

90 ~ 260V AC, 50Hz / max. 1200W (including printer)

Compressed Air

6bar (only models EL, ES and BB)

Weight

>35kg (depends on the model)

Dimensions (Width x Depth x Height)

Approx. 773mm x 435mm x 586mm (models EL)
Approx. 771mm x 436mm x 576mm (models BB)
Approx. 876mm x 495mm x 643mm (models EB)
Approx. 912mm x 435mm x 604mm (models ES)
Approx. 641mm x 551mm x 584mm (models R)

Noise Emission

<70dB(A) (depends on the model)

Typical Accessories

Stand
Product Sensor
Proximity Sensor on Tamp-Pad (variable stroke)
Alarm Lamp
Multiflex Tamp (for label size quick-change)
more accessories
Alternative Products
Check Also:
Disclaimer
The final version of the delivered system may not match entirely with the presented images and specifications.