⚠︎ English translation is still in progress. We apologize for the inconvenience.
Legi-Air 4050 Gen2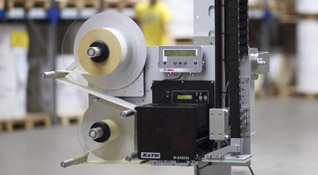 Este é o nosso sistema mais vendido, com mais de 15 000 unidades instaladas e a sua popularidade deve-se ao facto de ser um sistema robusto, ágil, fiável, duradouro e, o mais importante, que funciona. Esta segunda versão traz melhoramentos a nível de firmware para permitir novas funções e novas placas mais resistentes. O sistema suporta vários aplicadores para diferentes métodos de aplicação.
Apply Labels at High Speeds
Com a Legi-Air 4050 Gen2you can print the batch number and expiration date on your pre-printed label or print the whole label when you really need it, moments before its application onto the product. The system can reach very high application rates, somewhere around the 80 aplicações por minuto.
Excellent Precision
Apply your labels in the right spot with millimeter precision. No more misplaced, crooked or wrinkled labels.
"Just-in-Time" Printing
The problem of keeping stocks of labels with variable information that eventually gets obsolete is a thing of the past. Printing the labels when you really need them saves time, money and headaches.
Compatible with most Print Engines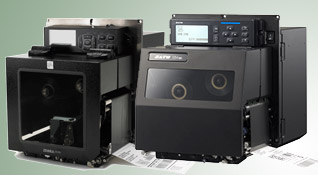 You can equip your Legi-Air 4050 Gen2 with a thermal-transfer printer module from any of the famous brands like Zebra®, Sato®, Datamax®, among many others, to print labels with good quality.
Easy to Use
This system is very easy to set-up. You just need to calibrate the printer to the label size being used, just like it is done for any other desktop label printer. Then, simply submit a print job and the applicator automatically synchronizes with the printer, catching the label and applying it onto the product that was detected by a sensor.
With Industrial Console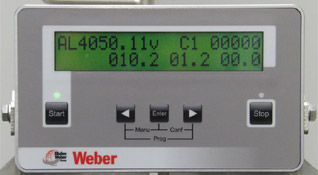 Configure rapidamente o sistema usando o controlador digital com visor. Navegue com facilidade pelos menus, altere parâmetros e veja as mensagens de estado do sistema.
Detect Lost Labels
When it is properly adjusted, the system practically never drops a label, unless there is a big external turbulence or an inadvertent contact with the tamp. The label presence on the tamp is properly detected by an air-pressure sensor, that is, if the vacuum level drops, it means that the label fell off the tamp pad. Optionally, an optical sensor can be used for this detection. In order to never let a product pass without a label, you can configure the system to go into error mode on these situations (and possibly stop the production line) or you can ignore the error for cases where a verification and separation of badly labeled products is done downstream.
Use All the Features of the System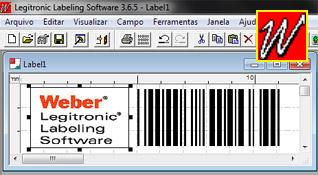 You can use any compatible software with the print engine that you have picked, but it is with Legitronic® that you can take full advantage of your printer. You can create simple or complex labels, with GS1 barcodes and RFID data and start a print job on the Legi-Air 4050 Gen2. Learn more about the things that you can do with the software in Legitronic.
Different Applications
You can install several applicators on the system to perform simple and single applications on the top or on the side of the products with a linear stroke arm, or on the front or rear using rotative tamps. Or you can also apply labels on the corner of the products or even execute double applications onto the same product with only one system and pass-through. All that without needing to stop the conveyor line. The applications can be made with or without contact with the products, no matter if they are simple boxes or products with more complex shapes, such as bottles, flasks, cans, tires, among many other forms. With a single stand, you can adjust the system to apply on any position and the systems are available in left- or right-hand versions (LH/RH).
Few Stops
With an unwinder that allows big label rolls and a rewinder for the label liner that works in 1:1, that is, with capacity to rewind the complete roll, you will have to make few stops to do label roll replacements. And we can supply label rolls with the right amount that you need so that during the stops you can replace both print ribbon and the label roll at the same time.
Label Counter
No HMI digital terá um contador de etiquetas para que saiba sempre quantas aplicações foram efetuadas. O contador tem capacidade para 10 000 contagens e dá a volta automaticamente. Pode repor o contador a zero a qualquer momento ou usar uma contagem decrescente, definindo um valor inicial superior a zero. Neste caso, a aplicadora entrará em paragem automática ao chegar a zero.
High Quality Sturdy System
Estas aplicadoras são bastante robustas e fiáveis, com uma vida útil superior a 10 anos. Construídas apenas com materiais de qualidade, não encontrará um pingo de ferrugem e, para além da limpeza ocasional da goma das etiquetas, não necessita de lubrificação nem de manutenção.
Safe and Certified Systems
These systems have CE certification and follow all European safety norms. Most of the standard system are complete complying systems (CC) with the safety norms and do not require additional protections or safeguards, given the fact that they do not exert forces over 50N. When the application rate is critical, there are faster versions in which the system is unlocked to go beyond the 50N of force threshold, being these versions identified as NC (not completed), since they require additional safeguards. If you choose a NC version, the system will include door-open sensors that will immediately halt the labeling operation when the safeguards are opened, so that the system cannot cause injuries. Furthermore, they also bring emergency kill switches to immediately stop the system manually.
Easy Integration: Control the System
The system can send and receive several signals. As input signals, the system can execute the typical triggers to start the label printing process, extended the tamp and apply the labels. The applicator can be configured to divide the 3 steps of a cycle (print, extension and application blow) or unite the extension and blow in one task and the label printing can be set to start automatically (when there is print data) as soon as the cycle begins. There are more input signals, like the reprint signal, very useful when a scanner is used to check the printed label. The input signals work in active and passive modes, that is, the 24V can be sent by the PLC or supplied by the labeler itself. Like this, only a contact needs to be switched.
Easy Integration: Get Status Information
The system makes available several output signals, such as, the information if the system is ready, if there are errors, if the tamp is in the home position, if there is data on the printer, if the printer is feeding (i.e., printing), if the label is on the tamp pad, among other things. The applicator also sends a signal to warn when the label roll is approaching its end. You can also configure a synchronization signal that becomes active after the product's detection and deactivates at the end of the cycle, when the tamp returns to the home position, or to simply send a pulse after the application, in this last scenario, allowing a definition of a delay and duration in which the signal will be active.
Approved by System Integrators
With the Weber® policy for Global Export, the system integrator companies can export our print-and-apply systems as part of a bigger system and the final user gets all the technical support in the destination country, performed by the local distributor of that said country, all completely transparent and without additional costs. All that a system integrator must do is mention that the system is for resale and when the destination country is known, inform us about it so that we can proceed with the transfer of responsibility of the system to the local distributor.
Excellent Price/Quality Relation
O preço destes sistemas pode não ser o mais barato do mercado, mas tendo em conta o valor e a qualidade desta máquina, o preço é nada menos que excelente. E, tendo em conta a vida útil do sistema, os reduzidos tempos de down-time expectáveis e os custos de manutenção irrisórios, a longo prazo, não será uma surpresa se até ficar mais em conta. Acaba por poupar, não só monetariamente, mas também em dores de cabeça.
Many Application Methods
You can equip your Legi-Air 4050 Gen2 with one of several available applicators so that the system can be perfectly adapted to your products and type of application. Check the different kinds of applicators available below.
Applicators
Linear Movement Applicators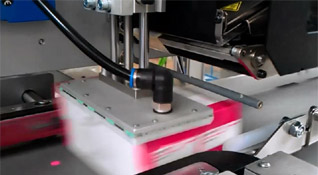 Sistema com o clássico método Tamp-Blow para aplicações nos laterais ou topos de produtos, sem contacto e paragens. Com um sensor de proximidade pode aplicar em produtos com diferentes alturas. Também se pode configurar para Inverted-Tamp-Blow, sendo que o tampo avança imediatamente ficando à espera do produto e só recolhe depois de soprar a etiqueta, para que o sistema possa acompanhar linhas de produção com velocidades mais elevadas. Existem diversos braços de vários comprimentos, começando nos aplicadores de alta-velocidade de curso curto extensível até 50mm e acabando no mais comprido que consegue alcançar 1200mm.
Rotative Movement Applicators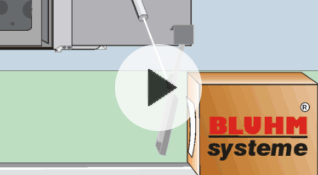 Sistema com braço rotativo Tamp-Swing para aplicações na parte da frente ou de trás de produtos, sem paragens.
Legi-Air 4050 CWB - Corner Applications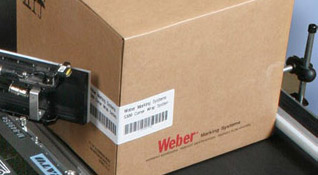 Sistema para aplicação de etiquetas nos cantos das caixas usando o método Corner-Wrap em que o tampo não recolhe logo, para fazer com que a etiqueta seja colada em volta da aresta. A vantagem deste sistema é que o braço é um simples braço rotativo e não requer paragens, mas os produtos não podem ser muito leves. Para produtos leves, pode usar-se um tampo duplo Split-Tamp.
Legi-Air 4050 WO - Say Goodbye to Compressed Air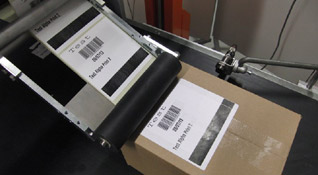 O sistema utiliza o popular método Wipe-On que para além de permitir a aplicação de etiquetas em várias posições, sem paragem do tapete transportador, faz tudo isso sem necessitar de ar comprimido. Isto significa maior economia e menos manutenção. O módulo de impressão apenas imprime e não descola a etiqueta e, assim, pode usar-se uma barra de descolagem com unidade de pressão mais à frente.
Legi-Air 4050 AC - Wipe-On with Accumulator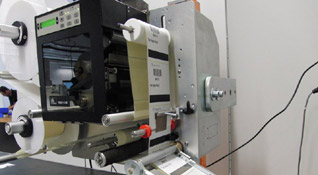 Este sistema é em tudo semelhante à Legi-Air 4050 WO, utilizando também o popular método Wipe-On que para além de permitir a aplicação de etiquetas em várias posições, sem paragem do tapete transportador, faz tudo isso sem necessitar de ar comprimido. Isto significa maior economia e menos manutenção. O módulo de impressão apenas imprime e não descola a etiqueta e, assim, pode usar-se uma barra de descolagem com unidade de pressão mais à frente. O que destaca este model é o inovador acumulador que permite criar um pulmão de etiquetas já impressas, possibilitando assim que o sistema consiga aplicar em produtos que se desloquem a velocidades superiores à velocidade de impressão. Assim, mesmo que a impressora imprima a 16m/min, o que já é uma velocidade elevada, o sistema ainda assim pode aplicar a 50m/min. Dependendo do tamanho da etiqueta, podem ser etiquetados vários produtos de rajada e o sistema recupera e volta a encher o pulmão quando existir um período sem passagem de produtos.
Legi-Air 4050 P - Pallet Applicators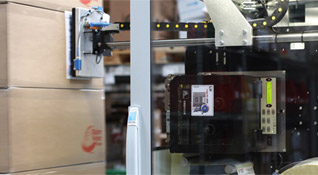 Este método é em tudo semelhante ao Tamp-Blow normal mas, estando o sistema pensado para a paletização, o aplicador de paletes tem o braço reforçado e mais comprido. Existem versões para aplicação única ou para aplicação dupla, em dois lados adjacentes de cada palete.
Legi-Air 4050 I
O sistema Legi-Air 4050 fica incrustado num armário de proteção e é indicado para ambientes mais problemáticos, como ambientes poeirentos ou húmidos. O armário tem uma porta que abre quando o tampo de aplicação está a aplicar etiquetas. Optionally, o armário pode vir com aquecedor para ambientes frios ou ar condicionado.
Specifications

Type

Print-Apply Labeling System
Print-Apply Labeling System for Pallets (LA4050 P models)

Brand

Weber

Models

Legi-Air 4050 LH (Left-Hand Version)
Legi-Air 4050 RH (Right-Hand Version)

*Each model has several options of type and length of the arm

Print Engine

Zebra, Datamax, Sato, Novexx, Avery or CAB (pick yours)

Maximum Print Speed

406mm/s (depends on the equipped print engine)

Print Resolution

600dpi (depends on the equipped print engine)

Application Rate

Up to 80 labels per minute (depends on the application)

Minimum Label Width

12,5mm

Maximum Label Width

160mm (depends on the equipped print engine)

Minimum Label Length

7mm

Maximum Label Length

210mm

Application Methods

Tamp-Blow
Tamp-On
Blow-On
Tamp-Swing
Corner-Wrap
Wipe-On
Wipe-On (com accumulator)
Tamp-Blow with Rejection Pad
Tamp-Blow for Pallets (Legi-Air 4050P)
Tamp-Swing for Pallets (Legi-Air 4050P)
(depends on the chosen applicator)

Application Stroke

Adjustable up to 1200mm (depends on the model)

Tamp-Pad Sizes

Customized
120x90mm
120x160mm
160x123mm
160x93mm
150x210mm
DIN A5
(drilled for 1 label size)

Label Placement

Side

Top

Bottom*

Front

Rear

Front + Side
Edge
Side + Rear
Edge
Side + Top
Edge
Front + Top
Edge
Top + Rear
Edge

Front + Side

Side + Rear

Front + Top

Top + Rear

Wrap-Around*

Side (Flat Bottles)

Top (Lids)

Among others...

(depends on the model)
*requires special conveyor

Application Accuracy

±0,8mm

Motor Type

Stepper (Rewinder) + Printer's Motor

Core Diameter

76mm

Unwinder Capacity

300mm External Diameter (approx. 450m)
Optionally, 350mm External Diameter (approx. 600m)

Rewinder Capacity

1:1

PC Software

Legitronic (recommended, not included)

User Interface

HMI with 2-line Digital Display
Print Engine's Display

Languages (Digital HMI, Pack 2)

English
Portuguese
Spanish
Polish
Czech
Latvian
Russian

Ports

2x Product Sensor
1x Alarm Lamp
1x Low Label Sensor
1x HMI
1x I/O
1x Printer
1x Applicator
1x USB-B
1x Power Connection
1x Power Extension (for the printer)
+ Printer's Ports

Electrical

90 ~ 260V AC, 50Hz / max. 1200W (including printer)

Compressed Air

6bar

Weight

Approx. 75kg (depends on the model)

Dimensions (Width x Depth x Height)

Approx. 764mm x 523mm x 584mm (depends on the model)

Noise Emission

72dB(A), 80dB(C) (depends on the model)

Typical Accessories

Stand
Product Sensor
Proximity Sensor on Tamp-Pad (variable stroke)
Alarm Lamp
Multiflex Tamp (for label size quick-change)
Rejection Tamp
Protection Cabinets
Jumbo Unwinder e Rewinder
Stop-Valve (tamp remains up after switch-off)
Zero Down Time Controller
more accessories
Alternative Products
Check Also:
Disclaimer
The final version of the delivered system may not match entirely with the presented images and specifications.