⚠︎ English translation is still in progress. We apologize for the inconvenience.
Legi-Air AP182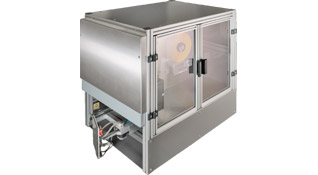 Sistema de impressão e aplicação de 3 eixos, para aplicar etiquetas em até 3 lados da mesma palete.
Apply GS1 Labels Onto Your Pallets
Nas versões standard, o sistema vem preparado para imprimir e aplicar etiquetas com tamanho DIN A5 (150x210) em orientação de retrato e em conformidade com as especificações GS1. It has an reinforced arm for applications in 3 sides of the same pallet.
Labels 3 sides of the Pallet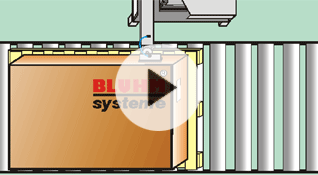 O sistema AP182 é das poucas impressoras-aplicadoras no mercado capaz de aplicar em 3 lados da mesma palete numa só passagem. Para aplicação em 3 lados, o sistema apenas requer 2 paragens da palete, ou apenas uma única paragem em aplicações de 2 lados. As aplicações são feitas sem contacto com os produtos em modo Tamp-Blow com sensor de proximidade, mas com um tampo com amortecedores optional também pode existir contacto aplicando-se em modo Tamp-On. O sistema vem assente numa sub-estrutura fabricada à medida das suas necessitadas com alturas até 1,2m, com sapatas de ajuste até +50mm e os sistemas estão disponíveis nas versões esquerda (LH) e direita (RH).
High Application Rates
Este sistema é capaz de etiquetar até cerca de 100 paletes por hora, mesmo com aplicações de 3 etiquetas por palete.
Excellent Precision
Apply your labels in the right spot with millimeter precision. No more misplaced, crooked or wrinkled labels.
"Just-in-Time" Printing
Identifique cada palete com um SSCC único e respetivos códigos GS1-128. O problema de manter stocks de etiquetas com informação variável que eventualmente ficará desatualizada é coisa do passado. Ao imprimir no momento, poupa tempo, dinheiro e complicações.
Apply in any Orientation
Com a opção RT (não instalável posteriormente), pode alterar a orientação na qual a etiqueta é aplicada. Isto é, a etiqueta pode sair da impressora na orientação retrato e ser aplicada em orientação de paisagem. O tampo pode rodar entre 0 a 90º e é possível escolher qualquer valor intermédio, possibilitando a aplicação em paletes que se desloquem num tapete com inclinação.
Compatible with most Print Engines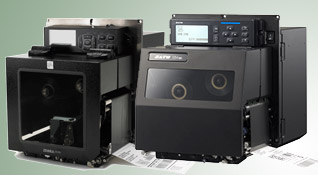 You can equip your Legi-Air AP182 with a thermal-transfer printer module from any of the famous brands like Zebra®, Sato®, Datamax®, among many others, to print labels with good quality. Para etiquetas de paletes, recomendam-se models de 6 polegadas.
With an Industrial Controller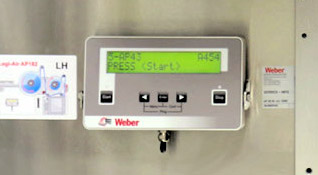 Configure rapidamente o sistema usando o controlador digital com visor. Navegue com facilidade pelos menus, altere parâmetros e veja as mensagens de estado do sistema.
Use All the Features of the System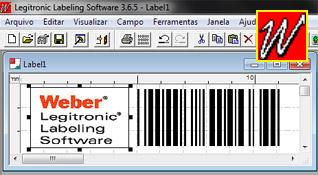 Pode usar qualquer programa compatível com o módulo de impressão que escolheu, mas é com o Legitronic® que poderá tirar todo o partido da impressora. Pode criar etiquetas simples ou elaboradas com códigos de barras GS1 e numeração SSCC automática ou até informação RFID. Saiba mais sobre o que pode fazer com o software de etiquetagem em Legitronic.
Configurable Movements
Pode programar cada um dos três movimentos para a aplicação frontal, lateral e traseira. Feita a configuração inicial e calibrada a impressora, não terá de se preocupar mais, pois tudo o resto é automático, desde a sincronização com a impressora até à sincronização com a linha transportadora.
Few Stops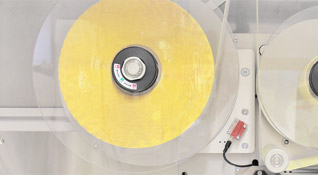 With an unwinder that allows big label rolls and a rewinder for the label liner that works in 1:1, that is, with capacity to rewind the complete roll, you will have to make few stops to do label roll replacements. And we can supply label rolls with the right amount that you need so that during the stops you can replace both print ribbon and the label roll at the same time.
Label Counter
Usando o HMI digital, terá um contador de etiquetas para que saiba sempre quantas aplicações foram efetuadas. O contador tem capacidade para 100 000 contagens e dá a volta automaticamente.
High Quality Sturdy System
Estas aplicadoras são bastante robustas e fiáveis, com uma vida útil superior a 15 anos. Construídas apenas com materiais de qualidade como o alumínio e aço inoxidável, não encontrará um pingo de ferrugem e, para além da limpeza ocasional da goma das etiquetas, não necessita de lubrificação nem de manutenção.
Safe and Certified Systems
Estes sistemas têm certificação CE e cumprem as normas de segurança europeias. São sistemas completos (CC) de acordo com as normas de segurança e não necessitam de proteções adicionais, visto não exercerem forças superiores a 50N. O módulo de impressão está montado num carril com molas e recua para proteger o operador de esmagamentos entre o tampo e a impressora e o espaço entre o braço de aplicação e o chassis também não permite lesões por entalão.
Easy Integration: Control the System
O sistema pode enviar e receber vários sinais. Como sinais de entrada, o sistema pode executar os típicos sinais para iniciar a impressão de uma etiqueta e executar o ciclo de aplicação correspondente (frontal, lateral ou traseira). Existem mais sinais de entrada, como o sinal de reimpressão, muito útil quando se usa um leitor de códigos de barras para verificar a impressão.
Easy Integration: Get Status Information
O sistema também disponibiliza vários sinais de saída, como a informação se o sistema está ativo, se está com erros, se o braço está na posição inicial, se existem dados na impressora, se a impressora está a avançar (a imprimir), se a impressora está em erro, se a etiqueta está no tampo, entre outros. A aplicadora também fornece sinais para erros e avisos específicos como poucas etiquetas. Também pode configurar um sinal de sincronização que fica ativo após a deteção do produto e desliga no final do ciclo de aplicação quando o tampo regressa à posição inicial ou para enviar apenas um impulso após cada ciclo de aplicação.
Approved by System Integrators
With the Weber® policy for Global Export, the system integrator companies can export our print-and-apply systems as part of a bigger system and the final user gets all the technical support in the destination country, performed by the local distributor of that said country, all completely transparent and without additional costs. All that a system integrator must do is mention that the system is for resale and when the destination country is known, inform us about it so that we can proceed with the transfer of responsibility of the system to the local distributor.
Specifications

Type

Print and Apply System for Pallets

Brand

Weber

Models

Legi-Air AP182 LH (Left-Hand Version)
Legi-Air AP182 RH (Right-Hand Version)

*Each model has several options

Print Engine

Zebra, Datamax, Sato, Novexx, Avery or CAB (pick yours)

Maximum Print Speed

406mm/s (depends on the equipped print engine)

Print Resolution

600dpi (depends on the equipped print engine)

Application Rate

Up to 120 pallets per hour (in 2 sides)
Up to 90 pallets per hour (in 3 sides)

Minimum Label Width

12,5mm

Maximum Label Width

168mm (depends on the equipped print engine)

Minimum Label Length

7mm

Maximum Label Length

210mm

Application Methods

Tamp-Blow
Tamp-Blow with Rejection Pad
Tamp-Blow for Pallets
Tamp-On (optional)


Application Stroke

Up to 545mm (or optionally 745mm)

Tamp-Pad Sizes

150x210mm (DIN A5 / GS1)
100x150mm
Customized
(drilled for 1 label size)

Label Placement

Side

Front

Rear

Front + Side

Side + Rear

Front + Side + Rear

Application Accuracy

±2mm

Motor Type

Stepper (Arm/Rewinder/Unwinder) + Printer's Motor

Core Diameter

76mm

Unwinder Capacity

350mm External Diameter (approx. 600m)

Rewinder Capacity

1:1

PC Software

Legitronic (recommended, not included)

User Interface

Digital Display
Print Engine's Display

Languages

English
French
Italian

Electrical

92 ~ 263V AC, 50Hz

Compressed Air

6bar

Weight

130kg (not including substructure)

Dimensions (Width x Depth x Height)

Approx. 731mm x 1123mm x 981mm (+ height of the substructure)
Approx. 1181mm x 1123mm x 981mm (with open door, + height of the substructure)

Typical Accessories

Substructure
Alarm Lamp
Verification with Barcode Scanner
RT Option (0 to 90º Rotative Tamp to change label orientation)
more accessories
Alternative Products
Check Also:
Disclaimer
The final version of the delivered system may not match entirely with the presented images and specifications.