⚠︎ English translation is still in progress. We apologize for the inconvenience.
Legi-Air 6000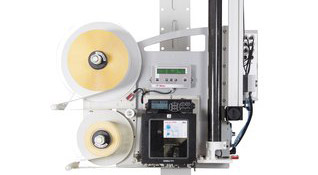 A modern print-and-apply system which is powered by a servo motor to move the application arm at lightning speeds. For that reason, not only the system is 50% faster than the models that use air-pressure cylinders to perform the movement, but also, the reductions on compressed-air costs go to the roof. The applicator still needs compressed-air to hold and blow the label against the product, but the consumptions are very low. The system supports several types of applicators for different application methods.
Apply Labels at High Speeds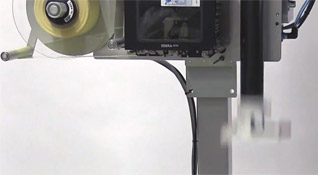 Não limite a sua produtividade. Com a Legi-Air 6000 pode imprimir o lote e a validade nos seus rótulos pré-impressos ou imprimir toda a etiqueta no momento, imediatamente antes de as aplicar nos produtos. O sistema consegue taxas de aplicação bastante altas mesmo que se utilizem cursos do braço longos e inclui sensores de poucas etiquetas e de etiqueta no tampo.
Unbelievable Application Rates
Com um aplicador ultraleve em fibra de carbono e um motor servo, é possível atingir taxas de 2250 ciclos por hora mesmo que o braço percorra um longo curso de 500mm e mesmo que se utilizem grandes etiquetas com o tamanho DIN A6 (105x148mm), ou seja, o tamanho recomendado para etiquetas GS1 para caixas e paletes. Estamos a falar de perto de 40 labels per minute para esta situação. Agora imagine as taxas de aplicação que se podem obter com cursos mais curtos e etiquetas mais pequenas.
Excellent Precision
Apply your labels in the right spot with millimeter precision. No more misplaced, crooked or wrinkled labels.
"Just-in-Time" Printing
The problem of keeping stocks of labels with variable information that eventually gets obsolete is a thing of the past. Printing the labels when you really need them saves time, money and headaches.
Compatible with most Print Engines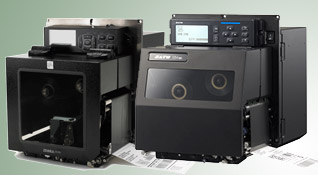 You can equip your Legi-Air 6000 with a thermal-transfer printer module from any of the famous brands like Zebra®, Sato®, Datamax®, among many others, to print labels with good quality.
With Industrial Console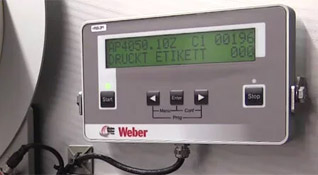 Configure rapidamente o sistema usando o controlador digital com visor. Navegue com facilidade pelos menus, altere parâmetros e veja as mensagens de estado do sistema.
Use All the Features of the System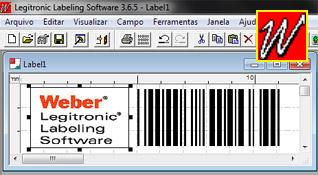 Pode usar qualquer programa compatível com o módulo de impressão que escolheu, mas é com o Legitronic® que poderá tirar todo o partido da impressora. Pode criar etiquetas simples ou elaboradas com códigos de barras GS1 e informação RFID e iniciar os trabalhos de impressão. Saiba mais sobre o que pode fazer com o software de etiquetagem em Legitronic.
Different Applications
Pode equipar o sistema com vários aplicadores para realizar aplicações simples e únicas nos laterais e topos de produtos com um braço linear ou na parte da frente ou de trás com tampos rotativos. Tudo isto sem necessitar de parar o tapete transportador. As aplicações podem ser feitas com ou sem contacto com os produtos. Com um único stand pode orientar o sistema para aplicar em qualquer posição e os sistemas estão disponíveis nas versões esquerda (LH) e direita (RH).
Easy to Use
This system is very easy to set-up. You just need to calibrate the printer to the label size being used, just like it is done for any other desktop label printer. Then, simply submit a print job and the applicator automatically synchronizes with the printer, catching the label and applying it onto the product that was detected by a sensor.
Few Stops
With an unwinder that allows big label rolls and a rewinder for the label liner that works in 1:1, that is, with capacity to rewind the complete roll, you will have to make few stops to do label roll replacements. And we can supply label rolls with the right amount that you need so that during the stops you can replace both print ribbon and the label roll at the same time.
Label Counter
Terá um contador de etiquetas para que saiba sempre quantas aplicações foram efetuadas. O contador tem capacidade para 100 000 contagens e dá a volta automaticamente.
High Quality Sturdy System
Estas aplicadoras são bastante robustas e fiáveis, com uma vida útil superior a 10 anos. Construídas apenas com materiais de qualidade, não encontrará um pingo de ferrugem e, para além da limpeza ocasional da goma das etiquetas, não necessita de lubrificação nem de manutenção.
Safe and Certified Systems
These systems have CE certification and follow all European safety norms. Most of the standard system are complete complying systems (CC) with the safety norms and do not require additional protections or safeguards, given the fact that they do not exert forces over 50N. When the application rate is critical, there are faster versions in which the system is unlocked to go beyond the 50N of force threshold, being these versions identified as NC (not completed), since they require additional safeguards. If you choose a NC version, the system will include door-open sensors that will immediately halt the labeling operation when the safeguards are opened, so that the system cannot cause injuries. Furthermore, they also bring emergency kill switches to immediately stop the system manually.
Easy Integration: Control the System
O sistema pode enviar e receber vários sinais. Como sinais de entrada, o sistema pode executar os típicos sinais para iniciar a impressão de uma etiqueta, avançar com o tampo e soprar a etiqueta. A aplicadora pode ser configurada para dividir o ciclo em 3 passos (impressão, extensão do tampo e aplicação) ou unir os passos de extensão e aplicação num só e a impressão pode estar configurada para ser realizada automaticamente (caso existam dados) no início do ciclo. Existem mais sinais de entrada, como o sinal de reimpressão, muito útil quando se usa um leitor de códigos de barras para verificar a impressão.
Easy Integration: Get Status Information
O sistema também disponibiliza vários sinais de saída, como a informação se o sistema está ativo, se está com erros, se o braço está na posição inicial, se existem dados na impressora, se a impressora está a avançar (a imprimir), se a impressora está em erro, se a etiqueta está no tampo, entre outros. Também pode configurar um sinal de sincronização que fica ativo após a deteção do produto e desliga no final do ciclo de aplicação quando o tampo regressa à posição inicial ou para enviar apenas um impulso após cada ciclo de aplicação.
Approved by System Integrators
With the Weber® policy for Global Export, the system integrator companies can export our print-and-apply systems as part of a bigger system and the final user gets all the technical support in the destination country, performed by the local distributor of that said country, all completely transparent and without additional costs. All that a system integrator must do is mention that the system is for resale and when the destination country is known, inform us about it so that we can proceed with the transfer of responsibility of the system to the local distributor.
Many Application Methods
Pode configurar a sua Legi-Air 6000 com um de vários aplicadores disponíveis para que o sistema de adapte em perfeita simbiose com os seus produtos e aplicação. Com aplicadores lineares com cursos curtos para altas velocidades ou longos até 1200mm de curso para produtos com alturas variáveis e até aplicadores rotativos, existirá sempre um model para a sua aplicação em particular.
Specifications

Type

Print and Apply Labeling System

Brand

Weber

Models

Legi-Air 6000 LH (Left-Hand Version)
Legi-Air 6000 RH (Right-Hand Version)

*Each model has several options of type and length of the arm

Print Engine

Zebra, Datamax, Sato, Novexx, Avery or CAB (pick yours)

Maximum Print Speed

406mm/s (depends on the equipped print engine)

Print Resolution

600dpi (depends on the equipped print engine)

Application Rate

>40 labels per minute (depends on the application)
(even when traveling strokes of 500mm and using DIN A6 labels)

Minimum Label Width

50mm

Maximum Label Width

120mm (depends on the equipped print engine)

Minimum Label Length

40mm

Maximum Label Length

200mm

Application Methods

Tamp-Blow
Tamp-On
Blow-On
Tamp-Swing
Tamp-Blow with Rejection Pad RFID
(depends on the chosen applicator)

Application Stroke

Adjustable up to 1200mm (depends on the model)

Label Placement

(depends on the model)

Application Accuracy

±1mm

Motor Type

Servo (Arm) + Stepper (Rewinder/Unwinder) + Printer's Motor

Core Diameter

76mm

Unwinder Capacity

350mm External Diameter (approx. 600m)

Rewinder Capacity

1:1

PC Software

Legitronic (recommended, not included)

User Interface

HMI with Digital Display

Ports

1x Product Sensor
1x Alarm Lamp
1x HMI
1x I/O
1x Printer
1x Power Connection
+ Printer's Ports

Electrical

90 ~ 260V AC, 50Hz / 5A

Compressed Air

6bar

Weight

Approx. 100kg (depends on the model)

Dimensions (Width x Depth x Height)

(depends on the model)

Typical Accessories

Reinforced Stand
Product Sensor
Proximity Sensor on Tamp-Pad (variable stroke)
Alarm Lamp
Rejection Tamp
more accessories
Alternative Products
Check Also:
Disclaimer
The final version of the delivered system may not match entirely with the presented images and specifications.