Labeling Systems
To precisely apply labels automatically at high speeds makes all the difference, reducing costs and increasing your productivity. The labeling systems from Weber® are very reliable, robust and compact. It is possible to apply pre-printed labels in all kinds of products and packages, like boxes, bottles or cans. Labels can be applied at any position in the final product (front, rear, side, top or bottom), in the corners, or even in two sides at the same time. The applicator can work with or without contact with the products.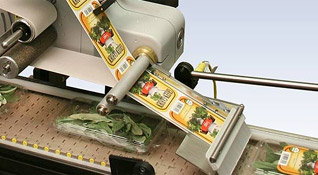 Extremely precise placement of the labels with error margins inferior to 1mm
Very high speeds and application rates
Reduces labor costs and assures a fast, efficient and productive labeling
Different application methods so that the system can perfectly adapt to your products
Adjustable stands to fit the system in your production line
Print batch numbers and dates by coupling a X1JET coding system
Easy integration
And much more...
Notes about the Models:
Alpha Entry
Basic entry model, with a minimum of 3 systems per order for an incredibly and unbeatable low cost per unit.
Alpha Compact 120/150
Applicator powered by a stepper motor that applies labels up to widths of 120 or 150mm respectively, using the Wipe-On application method.
Alpha Compact TB
Version with a tamp applicator that uses the Tamp-Blow application method.
Alpha Modular
Build it yourself: you can choose the various components that makes your labeling systems, such as the kind of motor, rewinder, unwinder, applicator, among other details. The applicator is assembled as per your requested configuration and fully tested before being delivered.
Alpha HSM
Enhanced and reinforced system when compared to the Alpha Compact, equipped with a servo motor to apply labels with widths up to 320mm at very high speeds using the Wipe-On method.
Bottle-Matic
Apply labels onto bottles, cans, tins and other cylindric products using the Wrap-Around method. With manual product feeding, this semi-automatic labeler is available in 4 versions to apply a single label or two labels at a time (front and back label), for label widths of 250 or 406mm.
Geset Lines
Multiple systems with a small conveyor belt and one or more labeling systems. Each model is designed to apply labels in a very specific type of product.
Check Also: