Alpha Modular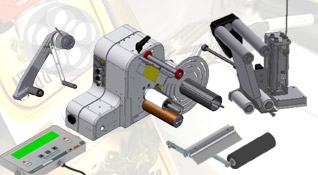 For certain specific situations, the standard Alpha Compact 120/150 and Alpha Compact 120/150 TB may not be 100% suitable to meet your special application requirements. For these cases, we can build a custom-tailored system, because the Alpha labelers are completely modular.
Different Applications
You can choose from several applicators and configurations to apply labels on any area of the products. You can opt to apply labels on the lids and the top of the products or on the side of boxes or flat-sided bottles. With a rotative tamp, you can also apply on the front or rear of boxes. With Wipe-On and special conveyors, you can also put the labeler below, on a nose-up orientation, to apply labels on the bottom of the products or even to label bottles, flasks, cans and other cylindric or conical products, by wrapping the label around them. If you pick the Wipe-On method, compressed-air will not even be required. The applications usually do not require product stops and products can travel at 50m/min. With a single stand, you can adjust the system to apply on any position and the labeler is available in left- or right-hand versions (LH/RH).
Excellent Precision
Apply your labels in the right spot with millimeter precision. No more misplaced, crooked or wrinkled labels.
Easy to Use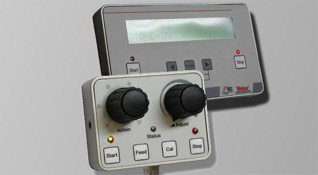 This system is very easy to set-up. You just need to calibrate the labeler once to the label size being used. After tuning the positioning, just let it do the job. The system detects missing labels on the roll and advances automatically to the next one, so no product will pass unlabeled. You can perform the calibration and adjust the speed easily using the digital or analog HMI. The digital version allows advanced configurations and notifications, but with the analog version you can do very quick and precise adjustments.
Few Stops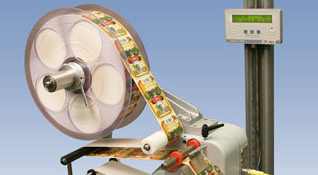 With an unwinder that allows big label rolls and a rewinder for the label liner that works in 1:1, that is, with capacity to rewind the complete roll, you will have to make few stops to do label roll replacements.
Industrial Motor
The labeler is moved by a powerful stepper motor that allows precise feeding speeds, eliminating wrinkles during the application.
Label Counter
When using the digital HMI, you will have a label counter so that you know how many application cycles were performed. The counter has a capacity for 10 000 applications and then starts over automatically. You can reset the counter at any moment or you can use a countdown feature by setting the counter to a value greater than zero. In that case, the labeler will automatically stop the labeling process when the counter reaches zero.
Various Peeler Bars Available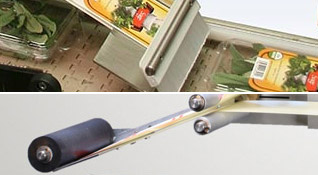 There are several peeler bars available so that the labeler can be adapted to any kind of application. You can choose to use a pressure roll for flat products or a pressure brush for irregular products. There is even a pneumatic peeler bar that moves using compressed-air and enables the application on products whose heights vary slightly.
Print the Lot and Expiration Date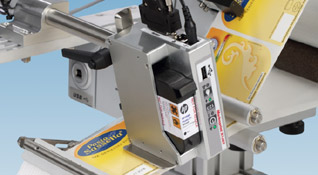 You do not need a complex print-and-apply system if all you want is to add small texts like the lot and expiration date to your pre-printed labels. You can equip your Alpha with our compact inkjet system X1JET HP or X1JET LX, which only requires installing a mounting bracket and connecting a cable.
High Quality Sturdy System
These labelers are very robust and reliable, with a lifespan that goes over 15 years. Built exclusively with quality materials, you will not find a single speck of rust and, besides the occasional cleaning of possible label adhesive build-up, they do not require neither lubrication or maintenance.
Operational Redundancy
For the most demanding applications, we have an optional controller for Zero Down Time into which you can connect two Alpha Compact systems. Only one system is labeling, but if the labels run out or an error occurs, the controller automatically switches the labeling operation to the other system. Thus, you can replace the label rolls without needing to stop the production line and no product passes through unlabeled.
Safe and Certified Systems
These systems have CE certification and follow all European safety norms. Most of the standard system are complete complying systems (CC) with the safety norms and do not require additional protections or safeguards, given the fact that they do not exert forces over 50N. When the application rate is critical, there are faster versions in which the system is unlocked to go beyond the 50N of force threshold, being these versions identified as NC (not completed), since they require additional safeguards. If you choose a NC version, the system will include door-open sensors that will immediately halt the labeling operation when the safeguards are opened, so that the system cannot cause injuries. Furthermore, they also bring emergency kill switches to immediately stop the system manually.
Quiet and Energy Efficient
A system that applies labels like a machine-gun must consume a lot of power and be very loud... Or not! This system consumes as much power as a computer and without fans it is relatively quiet, keeping the noise emission below 75dB(A).
Easy Integration
The system can receive remote signals to trigger the application. The input signals work in active and passive modes, that is, the 24V can be sent by the PLC or supplied by the labeler itself. Like this, only a contact needs to be switched. As for the output signals, the labeler informs if it is in normal or in error conditions, if the label roll is near the end and can also send a synchronization signal that can be configured to be active during or after the application cycle, in the last scenario, allowing a definition of a delay and duration in which the signal will be active.
Approved by System Integrators
With the Weber® policy for Global Export, the system integrator companies can export our labeling systems as part of a bigger system and the final user gets all the technical support in the destination country, performed by the local distributor of that said country, all completely transparent and without additional costs. All that a system integrator must do is mention that the system is for resale and when the destination country is known, inform us about it so that we can proceed with the transfer of responsibility of the system to the local distributor.
100% Modular
Because these systems are modular, multiple combinations are possible. Equip your Alpha with unwinders tailored to your needs for greater flexibility when the available space is limited and pick the application method by installing a linear tamp applicator, a swing-tamp or the simpler peeler bars for Wipe-On. Create a fully customized system to meet your application requirements. The chosen configuration is previously tested so that the system is perfectly tuned.
Modules
Base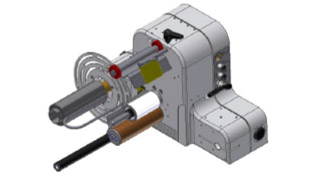 120mm LH (Left-Hand Version)
120mm RH (Right-Hand Version)
150mm LH (Left-Hand Version)
150mm RH (Right-Hand Version)
Unwinder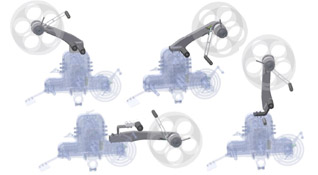 Top at 45º
Top at 0º
Top at -45º
Back at 90º
Wipe-On Applicator with Peeler Bar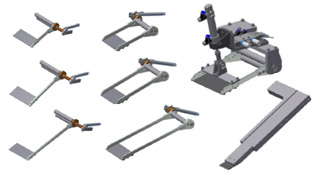 120mm with length of 150mm
120mm with length of 150mm (Pneumatic with 30mm stroke)
120mm with length of 200mm
120mm with length of 300mm
150mm with length of 150mm
150mm with length of 150mm (Pneumatic with 30mm stroke)
150mm with length of 200mm
150mm with length of 300mm
Customized with milled guides
Wipe-On Pressure Unit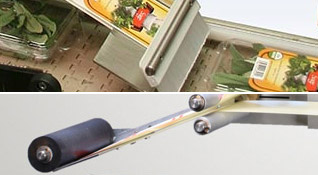 Roll 120mm
Roll 150mm
Brush 120mm
Brush 150mm
Inkjet System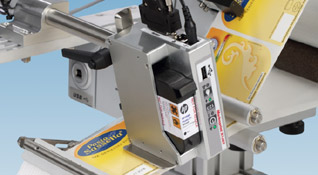 X1JET HP
X1JET LX
(only available for Wipe-On systems)
Tamp Applicator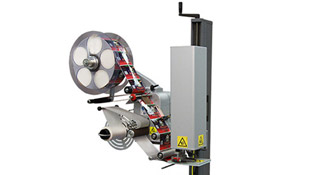 Tamp-Blow Linear, 226mm stroke
Tamp-Blow Mini, 14mm stroke
Tamp-Blow Mini, 39mm stroke
Tamp-Blow High Speed, 27mm stroke
Tamp-Blow High Speed, 77mm stroke
Tamp-Blow KH, 77mm stroke
Tamp-Blow KH, 177mm stroke
Tamp-Blow KH, 277mm stroke
Tamp-Blow KH, 377mm stroke
Tamp-Swing for frontal or lateral applications
Compressed Air Unit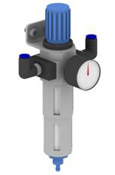 Regulator with Filter (required for Tamp Applicators or Pneumatic Peeler Bar)
HMI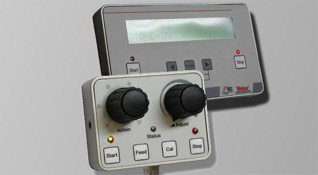 Digital
Analog (only available for Wipe-On systems)
Specifications

Type

Label Applicator

Brand

Weber

Models

Alpha Compact Modular 120 LH (Left-Hand Version)
Alpha Compact Modular 120 RH (Right-Hand Version)
Alpha Compact Modular 150 LH (Left-Hand Version)
Alpha Compact Modular 150 RH (Right-Hand Version)

Maximum Label Feed Speed

Depends on the configuration and the application

Application Rate

Depends on the configuration and the application

Minimum Label Width

Depends on the configuration

Maximum Label Width

120mm (Alpha Modular 120)
150mm (Alpha Modular 150)

Minimum Label Length

Depends on the configuration

Maximum Label Length

Depends on the configuration

Application Methods

Depends on the configuration

Application Stroke

Depends on the configuration

Tamp-Pad Sizes

52x52mm (Tamp-Blow Mini)
95x45mm (Tamp-Blow High Speed)
120x45mm (Tamp-Blow High Speed/KH/Linear)
120x55mm (Tamp-Blow High Speed/KH)
120x70mm (Tamp-Blow High Speed/LH)
120x90mm (Tamp-Blow High Speed/KH/Linear)
120x160mm (Tamp-Blow Linear, Swing-Tamp)
160x120mm (Tamp-Blow Linear, Swing-Tamp)
(drilled for 1 label size)

Label Placement

Depends on the configuration

Application Accuracy

±1,5mm

Motor Type

Stepper

Core Diameter

76mm (optionally 40mm)

Unwinder Capacity

300mm External Diameter (approx. 450m)

Rewinder Capacity

1:1

PC Software

None (not needed)

User Interface

Digital or Analog HMI

Languages (Digital HMI, Pack 2)

English
Portuguese
Spanish
Polish
Czech
Latvian
Russian

Protection

IP40

Ports

1x Product Sensor
1x Label Sensor (to calibrate positioning)
1x Low Label Sensor (to light yellow alarm)
1x Alarm Lamp
1x HMI
1x I/O
1x USB-B
1x Applicator (optional)
1x Encoder (optional)
1x Power Connection

Electrical

115 a 230V AC, 50/60Hz / max. 300W

Weight

Approx. 22kg (Alpha Compact 120)

Dimensions (Width x Depth x Height)

175mm x 310mm x 590mm (Alpha Compact 120)

Noise Emission

< 70dB(A) (with Wipe-On applicator)

Typical Accessories

Stand
Product Sensor
Low Label Sensor
Label Roll End/Tear Sensor
Proximity Sensor on Tamp-Pad (variable stroke)
Alarm Lamp
Speed Encoder
Zero Down Time Controller
more accessories
Alternative Products
Check Also:
Disclaimer
The final version of the delivered system may not match entirely with the presented images and specifications.