⚠︎ English translation is still in progress. We apologize for the inconvenience.
Legi-Air 2050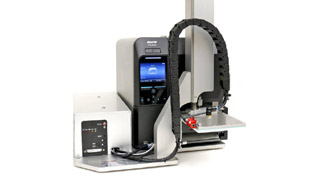 Qual seria o resultado da junção de um aplicador pneumático Festo com uma das melhores impressoras térmicas de secretária da atualidade? O resultado é o sistema de impressão-aplicação LA2050. Este sistema, apesar de ser bastante económico e compacto, é extremamente fiável e preciso e inclui uma célula no tampo para uma aplicação sem contacto em produtos de alturas variáveis. Suporta vários aplicadores para diferentes métodos de aplicação.
Apply Labels at High Speeds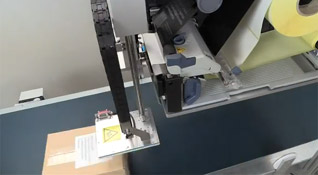 With the Legi-Air 2050you can print the batch number and expiration date on your pre-printed label or print the whole label when you really need it, moments before its application onto the product. O sistema consegue taxas de aplicação bastante altas.
Excellent Precision
Apply your labels in the right spot with millimeter precision. No more misplaced, crooked or wrinkled labels.
"Just-in-Time" Printing
The problem of keeping stocks of labels with variable information that eventually gets obsolete is a thing of the past. Printing the labels when you really need them saves time, money and headaches.
With a Sato CL4NX Plus Printer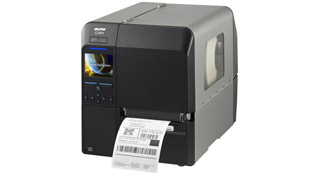 Este sistema faz uso da popular impressora da Sato®, a CL4NX para imprimir etiquetas de qualidade, à qual se adiciona um braço de aplicação para as aplicar com precisão em produtos que se deslocam numa linha de produção.
Use All the Features of the System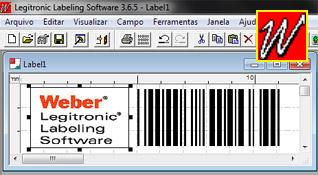 Pode usar qualquer programa compatível com o módulo de impressão que escolheu, mas é com o Legitronic® que poderá tirar todo o partido da impressora. Pode criar etiquetas simples ou elaboradas com códigos de barras GS1 e informação RFID e iniciar os trabalhos de impressão. Saiba mais sobre o que pode fazer com o software de etiquetagem em Legitronic.
Different Applications
O model normal faz uso de um braço de curso linear para aplicar etiquetas no topo dos produtos, mas existe a option de um braço rotativo de 90º.
Easy to Use
This system is very easy to set-up. You just need to calibrate the printer to the label size being used, just like it is done for any other desktop label printer. Then, simply submit a print job and the applicator automatically synchronizes with the printer, catching the label and applying it onto the product that was detected by a sensor.
High Quality Sturdy System
Estas aplicadoras são bastante robustas e fiáveis, com uma vida útil superior a 10 anos. Construídas apenas com materiais de qualidade, não encontrará um pingo de ferrugem e, para além da limpeza ocasional da goma das etiquetas, não necessita de lubrificação nem de manutenção.
Safe and Certified Systems
Estes sistemas têm certificação CE e cumprem as normas de segurança europeias. Estes são sistemas completos (CC) de acordo com as normas de segurança e não necessitam de proteções adicionais, visto não exercerem forças superiores a 50N.
Specifications

Type

Print-Apply Labeling System

Brand

Weber

Models

Legi-Air 2050
Legi-Air 2050 90º

*Each model has several options

Print Engine

Sato CL4NX Plus 305dpi
Sato CL4NX Plus 203dpi (optional)
Sato CL4NX Plus 609dpi (optional)

Maximum Print Speed

200mm/s (depends on the equipped print engine)

Print Resolution

305dpi (depends on the equipped print engine)

Application Rate

>25 labels per minute (with 80x60 label, depends on the application)

Minimum Label Width

40mm

Maximum Label Width

120mm

Minimum Label Length

30mm

Maximum Label Length

160mm

Application Methods

Tamp-Blow (Legi-Air 2050)
Tamp-Swing (Side) (Legi-Air 2050 90º)

Application Stroke

Adjustable up to 170mm (Legi-Air 2050)

Tamp-Pad Sizes

120x160mm
120x90mm
120x45mm
(drilled for 1 label size)

Label Placement

Top

Side

(depends on the model)

Application Accuracy

±1,5mm

Motor Type

Printer's Motors

Core Diameter

76mm
Fan-fold

Unwinder Capacity

218mm External Diameter (approx. 200m)

Rewinder Capacity

1:1

PC Software

Legitronic (recommended, not included)

User Interface

Applicator's LEDs
Print Engine's Display

Languages

English
Spanish
French
German
...

Ports

1x Product Sensor
1x I/O (to connect to the printer's EXT port)
1x Power Connection
+ Printer's Ports

Electrical

90 ~ 260V AC, 50/60Hz / 5A

Compressed Air

6bar

Weight

Approx. 33kg (depends on the model)

Dimensions (Width x Depth x Height)

Approx. 430mm x 663mm x 591mm (depends on the model)

Typical Accessories

Stand
Manual Triggering Button
more accessories
Alternative Products
Check Also:
Disclaimer
The final version of the delivered system may not match entirely with the presented images and specifications.