⚠︎ English translation is still in progress. We apologize for the inconvenience.
Novexx PEM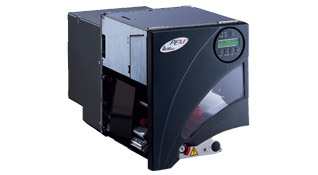 Linha de módulos de impressão que a Novexx® adquiriu à Avery® que têm algumas características peculiares, como um model de 5 polegadas, cabeças near edge de 300dpi e economizador de fita incluído. Para além disso, estes models não descolam a etiqueta o que permite montá-los em linha com outros dispositivos. Disponíveis em versões direitas e esquerdas para equipar a sua impressora-aplicadora independentemente da sua orientação. Existem models de 10, 13 e 16cm, com resoluções de 300dpi.
Renowned Brand
A Novexx® adquiriu a clássica linha de módulos de impressão à Avery® e ao escolher um model deste fabricante estará a adquirir uma impressora com qualidade, bem construída e duradoura.
High-end Printer
Estas impressoras são o topo de gama no que diz respeito a impressoras industriais. Para além de um leque alargado de funcionalidades, é na qualidade de construção que se notam as diferenças. Com a maioria das peças plásticas substituídas por componentes em metal, estas robustas impressoras estão concebidas para durar.
"Just-in-Time" Printing
O problema de manter stocks de etiquetas com informação variável que eventualmente ficará desatualizada é coisa do passado. Ao imprimir no momento exatamente o que precisa resulta em poupança de tempo e dinheiro e menos complicações.
Print Bigger
O model de 6 polegadas oferece uma largura de impressão maior para suportar grandes etiquetas até 16cm de largura. Poderá criar etiquetas legíveis sem ter de omitir qualquer informação.
Real Time Clock
The printer has an internal clock so that you can print the exact date and time in which each individual label of the print job is effectively printed.
Easy to Use
It is very simple to load the label roll and the print ribbon into the printer. Furthermore, you have a display where you can easily change print settings.
Maintenance Free
Com uma longa vida útil, construídas apenas com materiais de qualidade, não encontrará um pingo de ferrugem e, para além da limpeza ocasional da goma das etiquetas, não necessita de lubrificação nem de manutenção.
Print and Apply
Equip your labeler with this fast printer module to achieve high application rates. With a print speed of over 400mm/s and precise label feeding, you can push your print-apply system to the very limit.
Near-Edge Printhead
Este model requer fitas de impressão especiais do tipo Near-Edge que permitem boa qualidade de impressão mesmo a velocidades mais elevadas. Com economizador de fita incluído.
Without Peeler Bar for Integration Purposes
Os models PEM são em tudo semelhantes aos models DPM. A diferença é que este é dos poucos módulos de impressão que está pensado para ser usado em linha. Quer isto dizer que, ao contrário dos models DPM (Dispensing Printer Module) que descolam a etiqueta do silicone, os models PEM (Print Engine Module) não a descola e não puxa o silicone para trás. Assim, o sistema pode ser usado em conjunto com uma segunda impressora ou sistema de aplicação que já por si descola a etiqueta. Como pode ser visto na imagem acima, combinando dois models PEM em linha, podemos imprimir a duas cores, por exemplo, para etiquetas GHS (Globally Harmonized System). Como pode ser visto na imgaem, usaram-se dois sistemas PEM, pois pretende-se obter um rolo final impresso, mas se fosse numa impressora-aplicadora, o segundo módulo poderia ser um DPM para descolar a etiqueta para o tampo de aplicação.
You can Count on Us
We are not here to simply sell you a printer, we want to provide a solution. Starting with counseling before the purchase and helping with the installation, but also supplying your custom labels and different types of print ribbons, and going all the way to replacing worn out parts (rubber roll, bearings, printheads) and other repairs, we will always assist you.
Specifications
Type

Near-Edge Thermal-Transfer Printer Module (without peeler bar)

Brand

Novexx

Models

PEM 4" 300dpi LH
PEM 4" 300dpi RH
PEM 5" 300dpi LH
PEM 5" 300dpi RH
PEM 6" 300dpi LH
PEM 6" 300dpi RH

*Each model has several options

Print Methods

Direct-Thermal
Thermal-Transfer

Type of Ribbon

Up to 1000m, IC, Near Edge

Maximum Print Speed

400mm/s (models PEM 4" e PEM 5")
300mm/s (models PEM 6")

Print Resolution

300dpi

Print Width

106mm (models PEM 4")
127mm (models PEM 5")
160mm (models PEM 6")


Maximum Roll Width

136mm (models PEM 4" e PEM 5")
190mm (models PEM 6")

HMI Display

Yes, can be rotated

PC Software

Not Included

HMI Languages

English
....

Ports

1x RS-232
2x USB (Type A)
1x USB (Type B)
1x Parallel Port
1x Ethernet 10/100
1x Applicator USI
1x Power Connection
(other ports as option)

Electrical

100/240V AC, 50/60Hz

Weight

17 kg (models PEM 4" and PEM 5", without options or rolls)
18 kg (models PEM 6", without options or rolls)

Dimensions (Width x Depth x Height)

246mm x 429mm x 303mm (models PEM 4" and PEM 5", with closed cover)
246mm x 483mm x 303mm (models PEM 6", with closed cover)

Typical Accessories

Long Peeler Bar

*Some options are only available from factory and cannot be installed afterwards.
The installation of options after purchase has additional costs when compared with factory installed options.
Some options cannot be combined.
Alternative Products
Check Also:
Disclaimer
The final version of the delivered system may not match entirely with the presented images and specifications.