⚠︎ English translation is still in progress. We apologize for the inconvenience.
Legicolor 1000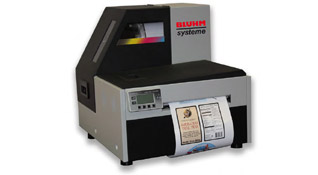 A Legicolor 1000 é uma impressora de jato tinta de gama industrial, extremamente rápida e preparada para a impressão de grandes volumes de etiquetas, suportando até etiquetas de tamanho A4.
"Just-in-Time" Printing
O problema de manter stocks de etiquetas com informação variável que eventualmente ficará desatualizada é coisa do passado. Ao imprimir no momento exatamente o que precisa resulta em poupança de tempo e dinheiro e menos complicações.
Print Bigger
Esta impressora permite larguras de impressão desde 50,8mm até 216mm (tamanho A4), o que a torna das impressoras mais flexíveis do mercado. Poderá criar etiquetas legíveis sem ter de omitir qualquer informação.
Print at Impressive Resolutions
Com uma qualidade de impressão imbatível de 1200 x 1200dpi, poderá imprimir etiquetas de elevada qualidade.
Reach Unbelievable Print Speeds
É possível atingir velocidades superiores a 300mm/s, valores que rivalizam com as impressoras de transferência térmica de etiquetas.
Few Stops
Graças aos seus cartuchos de grande volume, com duas ranhuras para cartuchos pretos que suportam em conjunto meio litro de tinta e uma capacidade total de 1,25 litros quando contando com os 5 cartuchos, poderá efetuar grandes tiragens de etiquetas sem ter de se preocupar em parar para substituir cartuchos.
With Integrated Unwinder
Esta impressora vem com unwinder para rolos de 200mm de diâmetro integrado e com tampa para proteger as etiquetas de poeiras. Estas características equiparam esta impressora às impressoras de transferência térmica convencionais.
Cut Your Labels
The printer includes an automatic cutter that allows the use of continuous media rolls and variable length prints.
Low Costs per Print
You will be able to print high quality color digital labels at really low prices.
Check the Printer Status
Para além de mostrar mensagens de estado no visor, a impressora tem um servidor web integrado que permite que se monitorize o estado da impressora remotamente, através de uma página web que pode ver no browser do seu computador ou telemóvel.
Easy to Use
É muito simples abastecer o rolo de etiquetas e mudar os cartuchos. E para além disso, tem um visor onde pode alterar facilmente as configurações de impressão.
Maintenance Free
Com uma longa vida útil, construídas apenas com materiais de qualidade, não encontrará um pingo de ferrugem e, para além da limpeza ocasional da goma das etiquetas, não necessita de lubrificação nem de manutenção.
You can Count on Us
We are not here to simply sell you a printer, we want to provide a solution. Starting with counseling before the purchase and helping with the installation, but also supplying your custom labels and ink cartridges, and going all the way to replacing worn out parts and other repairs, we will always assist you. We also provide a hotline for fast support related to the labeling software Legitronic®.
Specifications

Type

Inkjet Color Printers

Brand

Weber

Models

Legicolor 1000

*Each model has several options

Print Methods

Color Inkjet

Ink Type

Dye-based

Cartridges

Cyan (250 ml)
Magenta (250 ml)
Yellow (250 ml)
2x Black (2x 250 ml)
Total (1,25 l)

Recommended Print Materials

Glossy
Semi-Glossy
Matte

Maximum Print Speed

305mm/s

Print Resolution

1600 x 1600dpi

Print Width

215,9mm

Maximum Roll Width

216mm

Maximum Label Length

1200mm

Minimum Label Width

50,8mm

Minimum Label Length

50,8mm

Core Diameter

76mm
Fan-fold

Unwinder Capacity

200mm External Diameter

Sensors

Transmissive and Reflective (to detect space between labels and black mark)

HMI Display

Yes

PC Software

Legitronic (recommended, not included)

HMI Languages

English
Spanish
French
Italian
German
Chinese

Ports

1x USB 2.0 (Type B)
1x Ethernet 10/100
1x Power Connection

Electrical

100/240V AC, 50/60Hz

Weight

38 kg (without options or rolls)

Dimensions (Width x Depth x Height)

480mm x 535mm x 485mm (with closed cover)

Typical Accessories

Cutter (included)
External Rewinder
Option for Variable Data Printing

*Some options are only available from factory and cannot be installed afterwards.
The installation of options after purchase has additional costs when compared with factory installed options.
Some options cannot be combined.
Alternative Products
Check Also:
Disclaimer
The final version of the delivered system may not match entirely with the presented images and specifications.