Zebra ZD420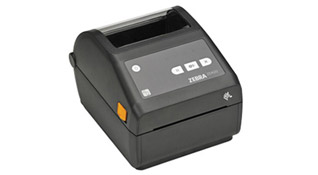 Economical and compact desktop printer from Zebra®, recommended for those who make few prints per day. It allows prints up to 10cm with a resolution of 203dpi or 300dpi.
Renowned Brand
The Zebra® brand is world-class famous and when choosing a model from this manufacturer you will be acquiring a well-built and long-lasting high-quality printer.
"Just-in-Time" Printing
The problem of keeping stocks of labels with variable information that eventually gets obsolete is a thing of the past. Printing the labels when you really need them saves time, money and prevents headaches.
Easy to Use
It is very simple to load the label roll and the print ribbon into the printer and you can easily change print settings from your computer.
Extremely Compact
This printer is extremely compact and will not require a lot of space on your desk. It is the solution for those who print a low number of labels per day.
ZPL Language
Zebra® is the creator of ZPL, and so, this printer will have the full support for the famous ZPL command language, the most used language in the market by several software and dedicated applications.
You can Count on Us
We are not here to simply sell you a printer, we want to provide a solution. Starting with counseling before the purchase and helping with the installation, but also supplying your custom labels and different types of print ribbons, and going all the way to replacing worn out parts (rubber roll, bearings, printheads) and other repairs, we will always assist you. We also provide a hotline for fast support related to the labeling software Legitronic®.
Specifications

Type

Compact Thermal-Transfer Printer

Brand

Zebra

Models

ZD420d 203dpi (Direct-Thermal)
ZD420d 300dpi (Direct-Thermal)
ZD420t 203dpi (Thermal-Transfer)
ZD420t 300dpi (Thermal-Transfer)

*Each model has several options
Healthcare models are not available

Print Methods

Direct-Thermal
Thermal-Transfer (only models ZD420t 203dpi and ZD420t 300dpi)

Ribbon Type

Ribbon with special core, up to 74m, OC (only models ZD420t 203dpi and ZD420t 300dpi)

*Other ribbons, up to 300m, with adaptor

Maximum Print Speed

152mm/s (models ZD420d 203dpi and ZD420t 203dpi)
102mm/s (models ZD420d 300dpi and ZD420t 300dpi)

Print Resolution

203dpi (models ZD420d 203dpi and ZD420t 203dpi)
300dpi (models ZD420d 300dpi and ZD420t 300dpi)

Print Width

104mm

Maximum Roll Width

108mm

Core Diameter

25mm
Fan-fold

Unwinder Capacity

125mm External Diameter

Sensors

Transmissive and Reflective (to detect space between labels and black mark)

HMI Display

No

PC Software

Legitronic (recommended, not included)

Ports

1x USB 2.0 (Type A)
1x USB 2.0 (Type B)
1x Power Connection (Power Supply)
(other ports as option)

Electrical

With 24V Power Supply
100/240V AC, 50/60Hz / ENERGY STAR

Weight

1,6 kg (models ZD420d, without options or rolls)
2,4 kg (models ZD420t, without options or rolls)

Dimensions (Width x Depth x Height)

178mm x 221mm x 151mm (models ZD420d, with closed cover)
203mm x 267mm x 192mm (models ZD420t, with closed cover)

Typical Accessories

Ethernet 10/100
RS-232 Port
WiFi 802.11 ac + Bluetooth
Cutter
Label Peel-off System

*Some options are only available from factory and cannot be installed afterwards.
The installation of options after purchase has additional costs when compared with factory installed options.
Some options cannot be combined.
Alternative Products
Check Also:
Disclaimer
The final version of the delivered system may not match entirely with the presented images and specifications.