X1JET HP HandHold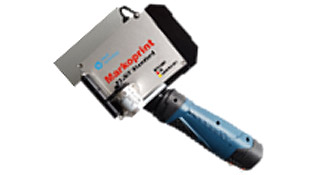 Extremely innovative system to mark your products manually, without requiring a conveyor belt.
No Need for Conveyors and to Fixate Things
Do not worry about controllers, sensors, speed encoder and conveyor belts. Mark your products manually, with no complications.
Always Straight and at the Right Speed
The system has front rollers that help you always keeping the marking in a straight line. Say goodbye to bent texts! And those rollers are part of an encoder that measures the speed, and so, the print will always be perfect, without getting compressed or stretched at all. Slide it, press the button, and that's it!
No more Cable Nightmares
With a powerful battery on the handle, you will not need to connect a single wire. With about 8h of autonomy, it lasts the whole working day! Leave the system recharging overnight, and in the next day, it is ready for action again.
All in a Stylish Briefcase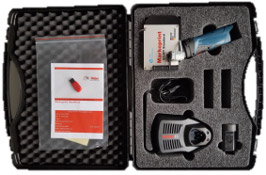 The system comes with everything you need. The system itself, the battery, the charger and a sturdy case to pack all in neatly.
With X1JET Printhead
This system is in its core the famous X1JET into which was coupled a handle with a battery and a triggering button, plus an encoder on the frontal part. You will have all the advantaged of the X1JET, unlocked with the Pro version.
HP® Technology

With TIJ (Thermal Inkjet) technology from Hewlett-Packard and a wide range of different ink types for multiple surfaces. With the Click-N-Print system, you can say goodbye to the cartridge locks. To remove the cartridge simply pull it up and insert a new one by pushing it down until you hear a click. And you will never again have to replace broken cartridge locks.
Bundled Software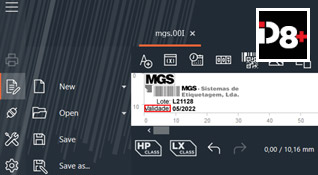 The system includes the software to create texts and start print jobs, manage configurations and monitor all the controllers in your factory. With no extra cost at all! Know more at iDesign.
High Quality Prints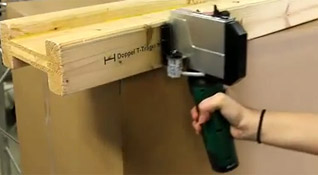 Print small texts like batch numbers and expiration dates or do multi-line printing with multiple triggers. All this at high resolutions to obtain impressive and sharp texts with smooth outlines without aliasing effects whatsoever.
Change the Text
Even though it was designed to be managed remotely, the X1JET still has 3 buttons that make possible, among other tasks, the selection of one of nine available texts, the start or stop of the print job and the change of the delay.
Design Texts at Your PC
Create print texts comfortably at the PC using the iDesign software and transmit them easily to the controller.
Make Simple or Complex Print Texts
The controller has an internal clock so that you can print dates and expiration dates automatically. Besides that, you can put text with any font and style, barcodes, images and many more things. Learn about everything you can do by visiting the iDesign software page.
Barcodes that are Always Readable
Print 1D and 2D barcodes on any surface. It is possible to enable and configure a barcode correction algorithm that predicts the ink overflowing outside the intended boundaries on materials where the ink smudges, and shaves off certain pixels. The results are incredible and it really works!
Transfer Data with USB-Pen or via WiFi
Transfer print texts and files such as fonts and images, from the PC to the controller using an USB stick, or via wireless connection (on the WiFi model).
Maintenance Free
With IP40 protection, these controllers are very sturdy and reliable, with a durable case made of milled and anodized aluminum. With TIJ (Thermal Inkjet) technology from HP®, you can say goodbye to clogs, cleaning and maintenance tasks. When you change the cartridge, you get brand new nozzles again.
Cost per Print is Almost Zero and Without Interruptions
A single cartridge can easily last for tenths or even hundreds of thousands of prints. Surely, it all depends on the kind of text that you want to print, the configurations and ink type, but normally the costs per prints are a tiny fraction of a cent.
Smart Cartridges
Know when the cartridge is about to run out of ink. Besides informing about the ink level, the printhead also detects the type of ink that is being used and the print parameters are automatically adjusted to achieve the best results.
Have Full Print Control
Choose the resolution, the speed, the zoom and the orientation (normal, upside down or mirrored). The printheads have two nozzle rows (A and B) and you can control how to use them. In the normal mode, the controller alternates between the two rows (A~B). If a row has defective nozzles, you can choose to exclusively use the other row. Or you can opt to use both rows at the same time (A+B) to obtain even darker print results.
Receive Warnings

The controller includes 3-color warning LEDs.
Quiet and Energy Efficient
This system consumes less energy than a computer and does not have any fans, which makes it completely quiet, not to mention that the internal components are protected from dust accumulation.
Approved by System Integrators
With the Weber® policy for Global Export, the system integrator companies can export our inkjet systems as part of a bigger system and the final user gets all the technical support in the destination country, performed by the local distributor of that said country, all completely transparent and without additional costs. All that a system integrator must do is mention that the system is for resale and when the destination country is known, inform us about it so that we can proceed with the transfer of responsibility of the system to the local distributor.
Fully Unlocked
The Handhold models already come completely unlocked:
| Function | Pro |
| --- | --- |
| Max. Number of Printheads | 1 |
| Print Height [mm] | 12,5 |
| Horizontal Resolution [dpi] | 900 |
| Vertical Resolution [dpi] | 600 |
| Print Speed at 300dpi [m/min] | 90 |
| Print Length (at 300 dpi) [m] | 2 |
| Includes iDesign Software | ✔︎ |
| Display | ✗︎ |
| Max. Number of Texts | 9 |
| Text Creation and Edition at the Controller | ✗︎ |
| Text Fields | ✔︎ |
| Logos | ✔︎ |
| Date and Time | ✔︎ |
| Date Offsets (expirations) | ✔︎ |
| Counters | ✔︎ |
| Variables | ✗︎ |
| Variable Entry at the Controller | ✗︎ |
| Shift Codes | ✔︎ |
| Action Fields (references) | ✔︎ |
| Barcodes | ✔︎ |
| 2D Barcodes | ✔︎ |
| Password Protected Menus | ✗︎ |
| Database Printing | ✗︎ |
| Configurable I/Os | ✔︎ |
| Copy with USB-Pen (USB-A) | ✔︎ |
| USB Connection to the PC | ✗︎ |
| Ethernet | ✗︎ |
| RS232 | ✗︎ |
| RS422 | ✗︎ |
| Wireless LAN | option |
| Bluetooth | ✗︎ |
Specifications

Type

Inkjet Printhead with Built-In Controller, Internal Sensor and Encoder
(for manual coding)

Brand

Mark-o-Print

Models

X1JET HP HandHold
X1JET HP HandHold WiFi

Max. Number of Printheads

1

Technology

TIJ from HP®

Print Height

12,5mm

Print Length

2m (at 300dpi)

Maximum Resolution

900x600dpi

Top Print Speed

90m/min

PC Software

iDesign (included)

User Interface

3 Buttons + Print Button
3-color LEDs (green, yellow, red)

Memory for Storing Texts, Logos and Fonts

1GB (optionally extendable)

Protection

IP40

Ports

1x USB-A

WiFi

Only with WiFi Model

Electrical

Rechargeable 12V Battery, 2,0Ah Li-Ion (battery life is around 8h)
Includes 220V Charger (optionally with 110V Charger)

Weight

1175g (including battery and cartridge)

Dimensions (Width x Depth x Height)

100mm x 144,5mm x 270mm

Typical Accessories

Briefcase, Battery, Charger and Encoder (included)
Splitter Cable
more accessories
Alternative Products
Check Also:
Disclaimer
The final version of the delivered system may not match entirely with the presented images and specifications.